User Guide: How to Recover Deleted WhatsApp Chat History from Samsung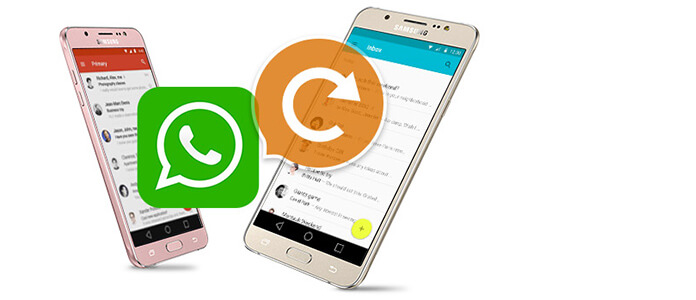 "I'm using Samsung Galaxy S7. Yesterday, I was chatting on WhatsApp, and I intended to add a conversation shortcut, but I accidently tabbed 'Delete chat' and clicked 'Yes' without thinking! Now all my WhatsApp chat history is gone. Is there one way to rescue my deleted WhatsApp messages on Samsung? I would really appreciate it." - Maggie
WhatsApp is a very popular proprietary cross-platform, encrypted, instant messaging client for smart phones. A lot of Samsung users send and receive messages, pictures, audio files, and video information with it. Even though it brings lots of conveniences to our lives now that we can communicate with friends online easily, WhatsApp can give us trouble sometimes. You may have your WhatsApp chat history lost just like Maggie. What to do when we run into such situation?
Well, don't worry. In the following, I have collected two methods for you to get Samsung WhatsApp messages back.
Solution one: Restore Samsung WhatsApp chat history from seven-day backups
Recovering WhatsApp Chat messages in recent seven days could be pretty simple. The fact is, WhatsApp automatically backs up all data every day at 4 AM (System time) and store them on your Samsung Internal Storage or SD Card, and they would last for seven days.
In order to find automatic backups, you could uninstall WhatsApp, then reinstall it. During installation process, you'll be prompted to restore your message history. Tap "Restore" and all deleted files in the last seven days would come back magically.
Note: This way to recover deleted WhatsApp chat history on Samsung is only valid within 7-day backups.
Besides, the whole reinstallation process could be troublesome. Most importantly, you'll lose your newest WhatsApp messages after deletion. That's more harm than good, right?
Solution two: Recover older WhatsApp chat messages without backups
Apart from seven-day backups, there are also ways for you to restore older WhatsApp chat history in your Samsung. Searching on the internet, you would find people recommend finding older backups following a path that sounds very strange to green hands. To be honest, this method is quite clumsy and it is most likely that these backups have already disappeared.
Actually, with help of a utility Samsung WhatsApp Recovery tool, you could easily restore all your WhatsApp chat history without any backups.
Here are the step-by-step guides:
Step 1: Download and run Android Data Recovery
Download, install and run this tool on your computer. You'll see the interface of this program as below.
Download for Windows Download for Mac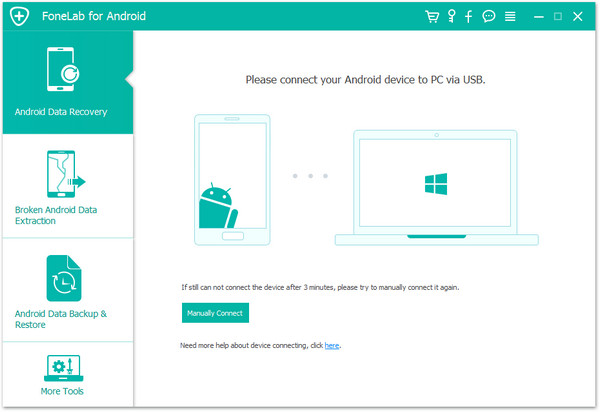 Step 2: Connect your Samsung with computer
Connect your Samsung device to your computer via USB cable. The software will automatically detect your device.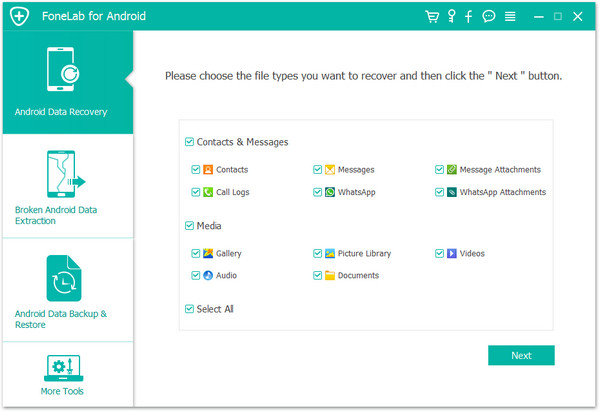 If your Android can not be detected at the first time, make sure USB debugging enabled. You can follow the photo below when your find it:
For Android 2.3 or earlier: Go to "Settings" > "Application" > "Development" > check "USB debugging".
For Android 3.0 to 4.1: Go to "Settings" > "Developer options" > check "USB debugging".
For Android 4.2 and latter: Go to "Settings", tab "Build number" for 7 times. Then back to "Settings" and choose "Developer options" > "USB debugging".
Once you enable the USB debugging mode on your Samsung, the software can continue to load the info of your device.
Step 3: Scan your Samsung and SD Card
After scanning, all the files in your Samsung and SD Card would be categorized as "Contacts", "Messages", "Messages Attachments", "Call Logs", "WhatsApp", "WhatsApp Attachments" and Media files like "Gallery", "Picture Library", "Videos", "Audio", etc. Select "WhatsApp" as well as "WhatsApp Attachments" according to your needs, then click "Next" button to scan your SD card and your device. It will list all the WhatsApp chat messages.
Step 4: Select files to recover
The software will show you all the data by default, turn on the button of "Only display the deleted item(s)" on top of the right window, and you can check the deleted WhatsApp messages only.
Step 5: Recover the deleted or lost WhatsApp chat history from Samsung
After you find all the chat history you want to recover, click "Recover" button. The software will get back your deleted chat history on WhatsApp. It will open the folder where the recovered data is saved automatically and you can check them easily.
From the above description, you can see that this program also can be as the Samsung contacts recovery or text messages/photos, etc. to find back your lost contacts, text messages, photos and more from Samsung.
With simple clicks, you can handily recover your Samsung WhatsApp history. With the same method, this Samsung recovery tool could also help you recover other files including contacts, text messages, call logs, videos, photos and more. To avoid all the trouble of accident deletion, you could also use it to back up your Samsung regularly.
If you are iPhone users, come here to recover and back up WhatsApp messages on iPhone.
You can learn the steps from the video below: